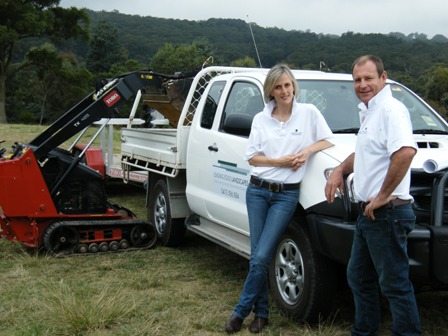 Our Firm
Leading Edge Landscapes has been providing landscape construction and maintenance services since December 1998. Prior to establishing the business Sam worked with Hosking Landscapes and Good Manors Landscapes in Sydney.
Sam has over 15 years experience providing high quality soft and hard landscaping services for multi-housing, commercial and residential projects.
Confidence with all forms of landscape construction, familiarity with a wide variety of materials and a complete understanding of plant, lawn and paving requirements, ensures a successful installation of the landscape design.
Focus
Leading Edge Landscapes listens carefully to their clients needs to ensure we have ascertained their exact requirements.
Our reputation for providing high quality services has been maintained through our constant drive for customer satisfaction.
Leading Edge has worked with construction companies, landscape architects and private clients on a range of sites including multi-housing, commercial property, large town gardens and country estates.
People
Leading Edge employs talented people with recognised qualifications, and as a company prides itself in its ability to offer professional workmanship and service.
Leading Edge has worked closely with all of its subcontractors and they possess the same professional attitude that Leading Edge and our clients expect.
Credentials
We are a fully resourced landscape contracting company with a good inventory of equipment, resources, plant hire company access and quality subcontractors.
Leading Edge Landscapes Pty Ltd has met with the Department of Fair Trading's requirements for a structural landscaping Licence – Number 116688C
PROJECTS

UNDERTAKEN

– CLIENT

LIST
Our client list is extensive and includes the following:
Stephen Edwards Constructions Pty Ltd
Contact:- Carlo Di Lana
02 9891 3099
- The Kings School Early Learning Centre
- Gib Gate library extension
Thompson Health Care
Contact:- Doug Thompson
02 8467 9333
- Bowral House – nursing home development
Inten Constructions Pty Ltd
Contact:- Andrew Appleton, Project Manager
1800 046 836
- Dan Murphys, Mittagong – conversion of Woolworths
- Woolworths Padstow
ADCO
Constructions
Contact:- David Rix,
VIC
Construction Manager
03 9832 1400
- Highlands Marketplace, Mittagong – shopping centre
- Iron Mines Cottage, Mittagong – retail space
Parkview Group, Sydney
- 39-43 Carlisle Street, Rosebay – multi-housing
- 44 Towns Road, Vaucluse – executive residence
- 22-24 Jersey Road, Woollahra – multi-housing
SCHEDULE

OF INSURANCE COVER
Worker's compensation insurance
Insurer:
CGU
Workers Compensation Policy Number: 20.WOR.0115729122
Public & products liability insurance
Insurer:
NRMA
Business Insurance
Limit: $10,000,000
Policy Number:
ET 2128771
/ MSA
Contract Works Insurance
Insurer:
QBE
Insurance (Australia) Ltd
Limit: $300,000
Policy Number:
QI121949
Superannuation
CBus Superannuation
OCCUPATIONAL

HEALTH

, SAFETY

AND REHABILITATION POLICY
Leading Edge Landscapes Ltd has a tradition of providing landscaping services that satisfies their client's true needs. This is achieved by carrying out works in a planned manner, thus creating a safer environment at all stages by:
Upfront identification of
OH
& S risk factors
Incorporating intrinsic safety features for the protection of our clients, the general public and
LEL
personnel.
Ensure our staff implement appropriate risk control measures to protect the health and welfare of all parties.
Leading Edge Landscapes will provide all the resources necessary to maintain this policy, to minimise health and safety risks, and to rehabilitate our people if health and safety is compromised.